Palette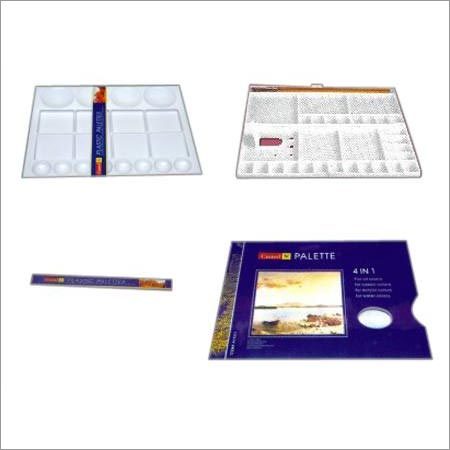 Palette
Palette
Plastic Palettes: Very popular and convenient accessory for the artists working with fluid colours, these palettes are light weight, break resistant and economical. Available in rectangular and folding, two models, they offer a good choice. Folding model is ideal to carry along.
Acrylic Palettes: Made out of transparent acrylic sheet in classical oval shape, these palettes can be used for both oil and acrylic colours. These palettes comes in two size to offer an option to the artists.
Tear-off Palettes: A new age neat option for the artists of today, this palette has 40 sheets of laminated paper. The artists can use the sheets to mix and blend any medium and dispose it after use. Complete with thumb hole and ridge for easy grip, it can also hold the dippers.
| | |
| --- | --- |
| Product No. | Description |
| 0515361 | Acrylic Palette - Oval Shape (Medium) |
| 0515360 | Acrylic Palette - Oval Shape (Large) |
| 0515311 | Tearoff Palette (40 sheets) |
| 0515481 | Box Palette - ABS Plastic |
| 0515413 | Flat Rectangular - ABS Plastic |